Several years ago one of my grandmothers told me they had always wanted to quilt. I had never thought about it before but it sounded like fun so I started getting fabric to make it.  I didn't know what I was doing. I just loved bright colors so I started buying that direction.  What I wound up with was a log cabin quilt. (haha I thought I had made something original.)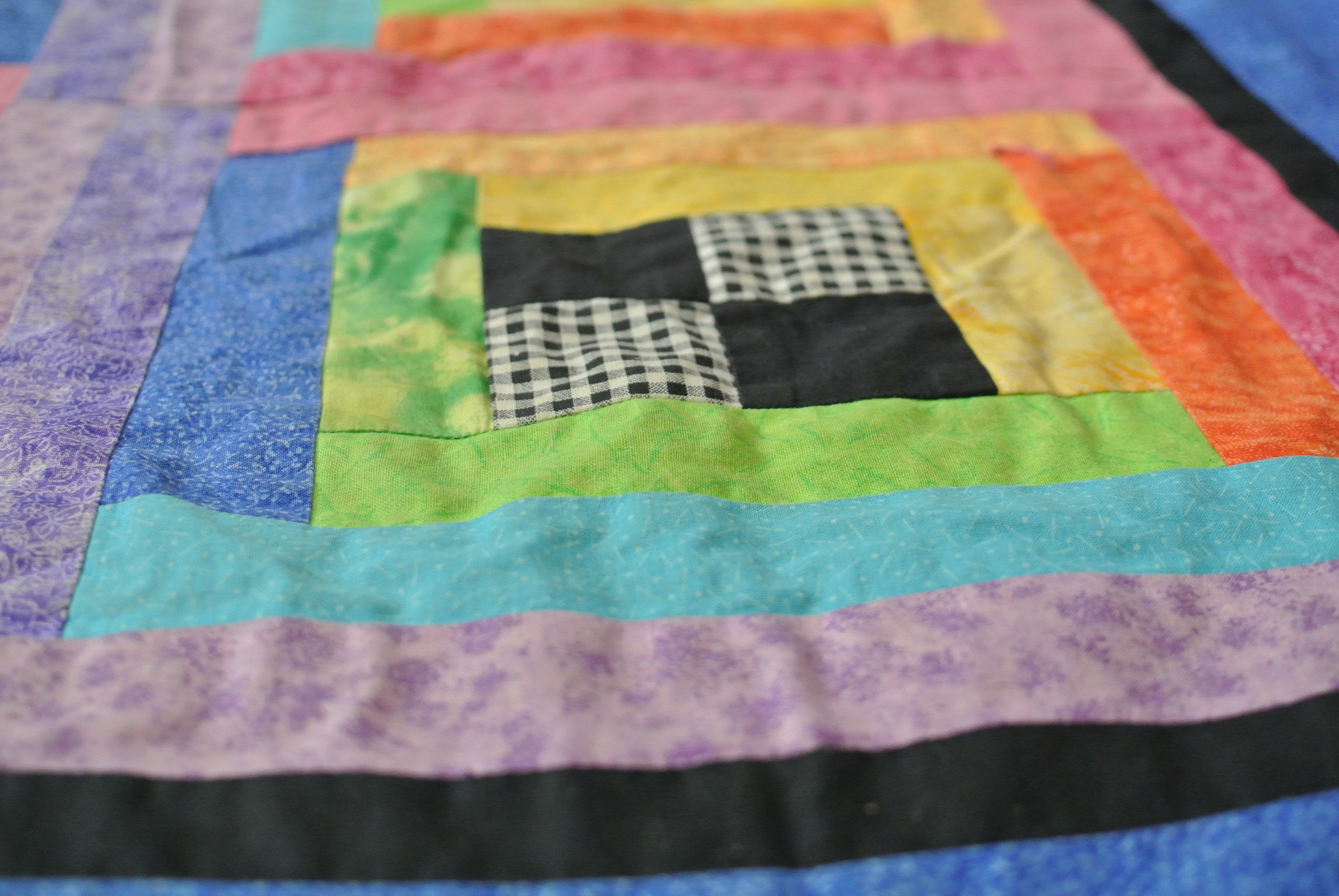 First Quilt
Since then I have made several other kinds of quilts, but have really got into t-shirt quilts. So if you are looking to have one made let me know, I would love to help! However if you are interested in making your own, maybe this will help you avoid some of my pitfalls.
If you are interested in making a custom pattern this post might be helpful.
After you have your pattern, you can start cutting your shirts. Don't worry the first one is the scariest then the rest is pretty easy. I usually cut the sleeves off and then cut up the side of the tee, (unless there is a design there), and at the neck seam as well, that way you end up with two pieces and the sleeves. If you're sentimental you can keep the sleeves and sides with no designs to make into something else, but trust me the pile is ever expanding so if you're short on room just chunk them.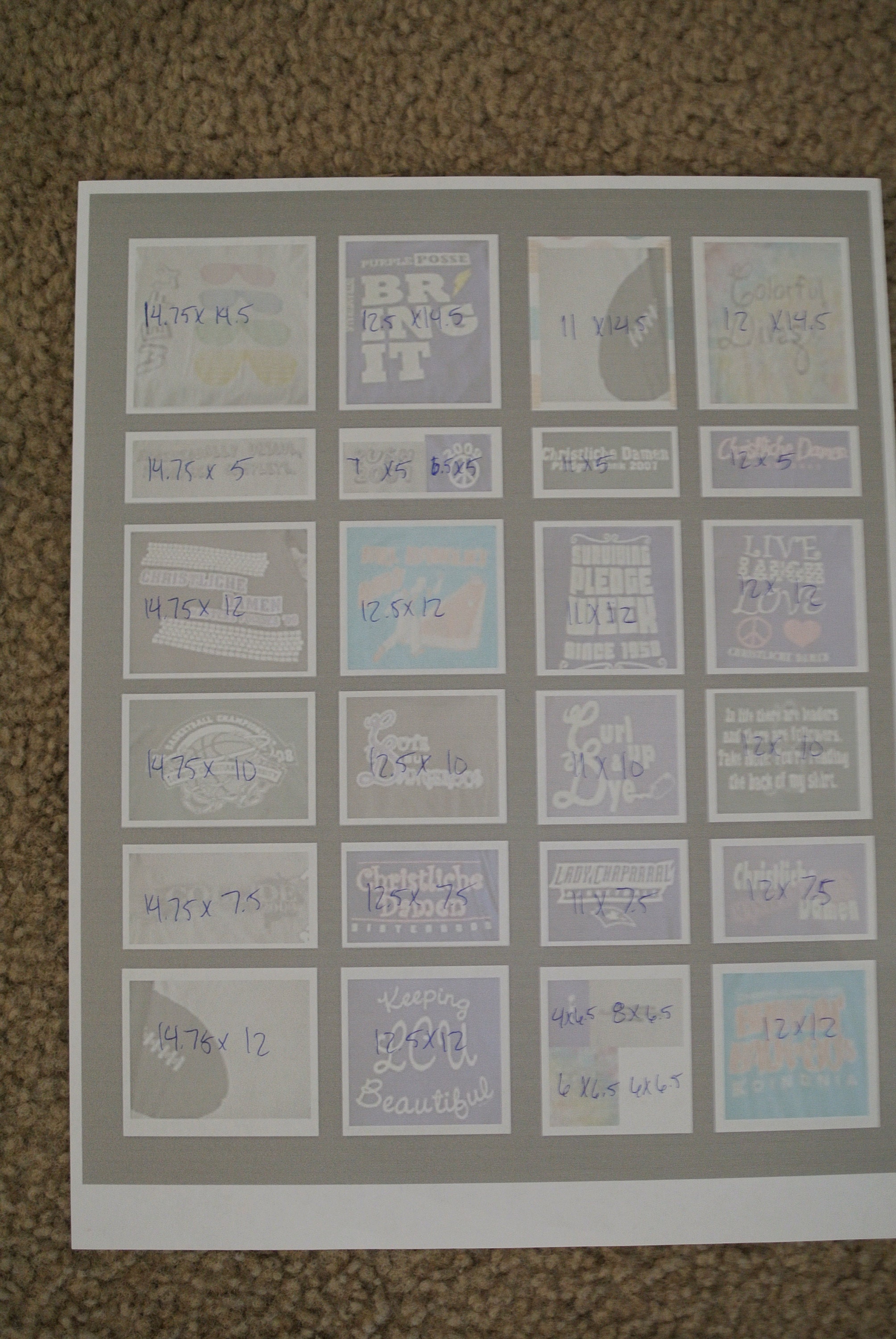 After you have made your initial cuts on the shirts you can use your big ruler, cutting mat and rotary blade to cut down to the exact measurements for your shirts and interfacing.
The first magazine I got on t-shirt quilting told me to use fusible knit interfacing. I used that for my first several quilts, but then found Pellon Shapeflex SF-101, and LOVE it. I now have two bolts of the other stuff that I will probably never use. You can get the SF-101 by the bolt or by the yard at Jo-Ann or any fabric store. I have a link to Jo-Ann's up above. Use a coupon. It's good stuff. Technically if you are only making one quilt you won't need a whole bolt, so you can do the measurements to see how much you will use. I buy by the bolt so I don't know how much I really use, but I'd estimate 6 yards or so per twin size quilt. 
The rest is pretty straight forward to making the quilt top. If you don't have a rotary cutter, big acrylic ruler and a mat to cut out your fabric, go buy one! You can use the scissors, but I highly recommend these other tools. They will make you happy. :)
 I can't remember where I got this tip but I love it! When getting ready to put your quilt together. Put the backing fabric pretty side down and masking tape it to the floor as tight as you can get it.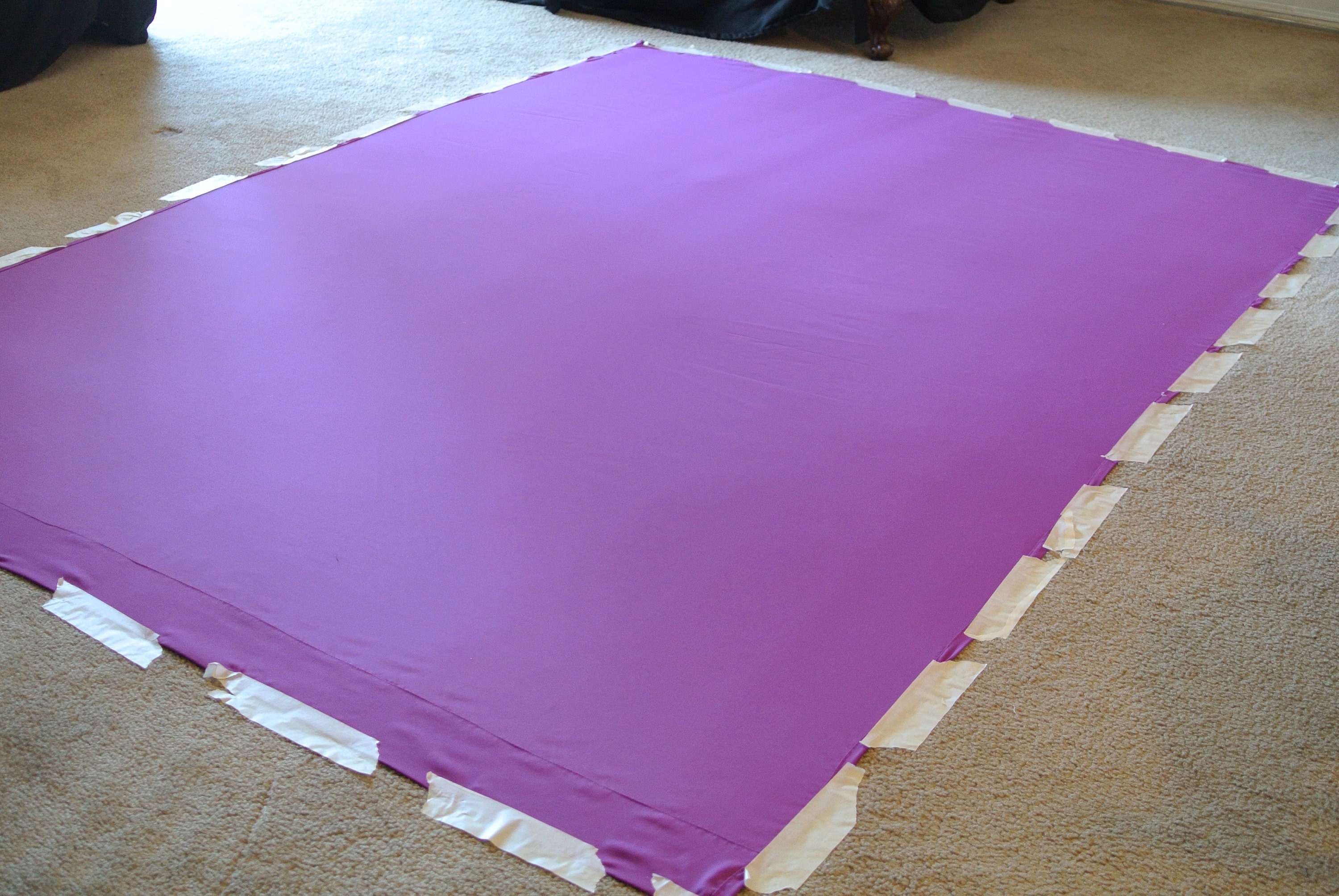 Then put on the batting. Smooth it out. It's not always smooth when it comes out of the package and can be a little funky. I usually throw my batting into the dryer for a few minute while I'm taping down the backing so that the wrinkles are out when I'm ready to use it. 
Then put the top layer on face up. Then using curved safety pins, pin it up every few inches.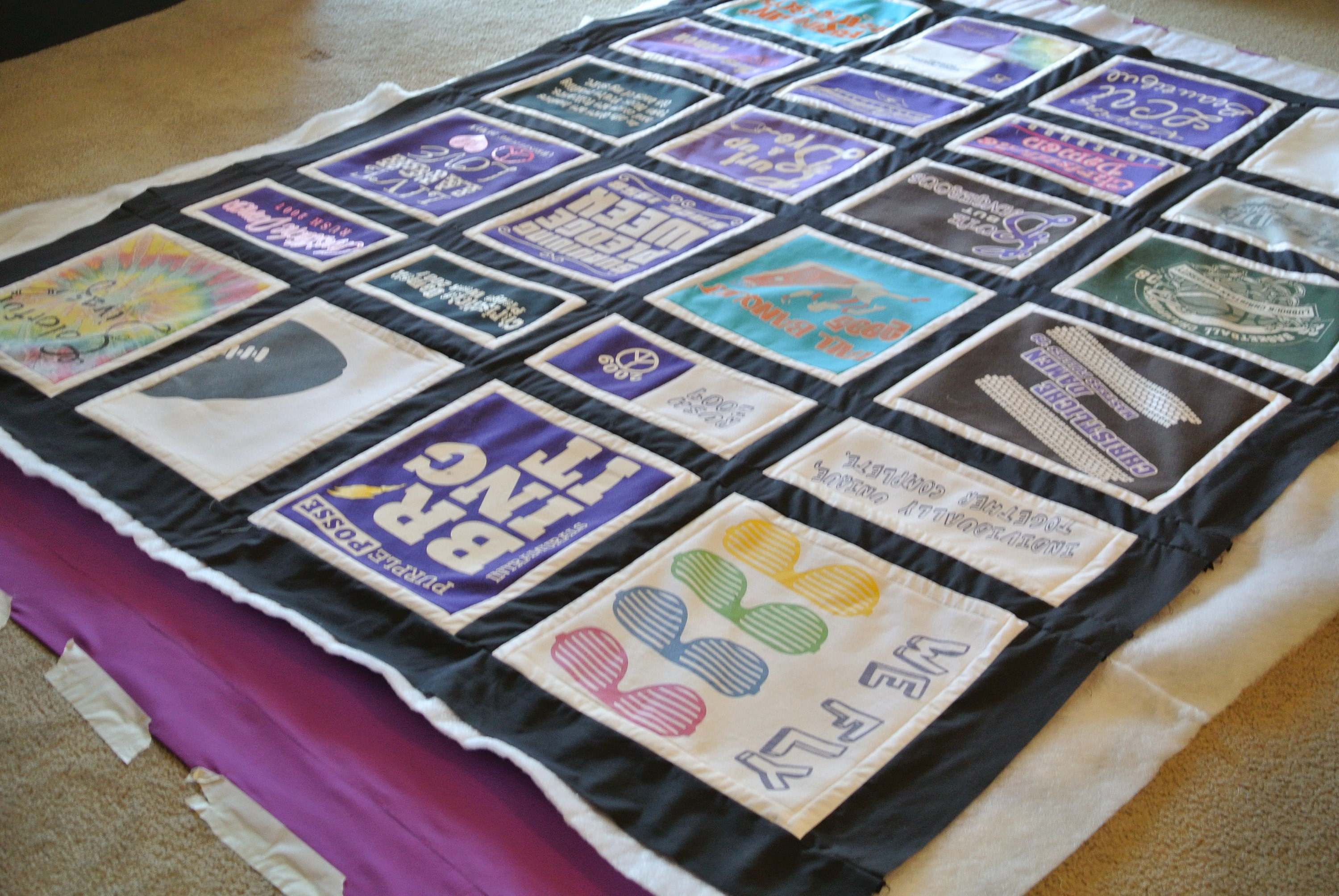 After doing this LOTS of times I finally realized it is better not to close the safety pins when you first put them in, because I usually wind up pinning the carpet too, but I feel like it's a small price to pay to keep the back so much smoother.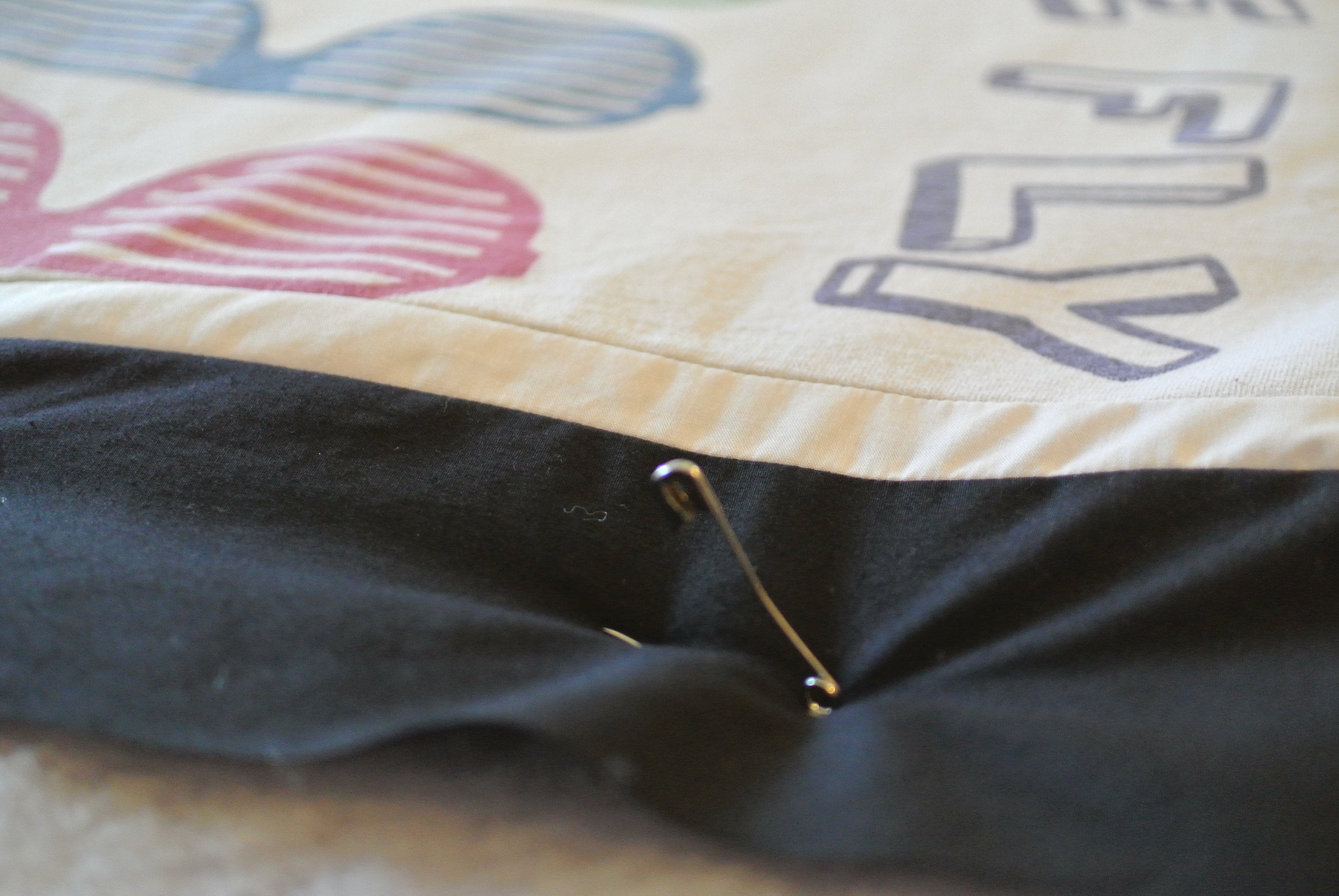 Usually I trim the batting and back down to a few inches around the edges but don't cut off even until it is all quilted that way if it draws up a bit in the back it's not a big deal. I use the mat, ruler, and rotary blade to cut it even... seriously good stuff right there.  
I didn't take pictures of doing the binding, so I'll leave that to you. When in doubt, pray and Google. Those get me through a lot of problems. :) Happy quilting!